World Champion Karate's Kids Martial Arts classes are a fun and exciting way to teach your child the important life skills and the work ethic they need as they grow into young adults and beyond.
With age-appropriate classes taking place daily, World Champion Karate offers a fun, friendly, challenging environment for our students where children learn fundamental martial arts techniques and so much more. Our dedicated staff is focused on teaching real, effective self-defense and helping our students to achieve optimal health and happiness.
GIVE YOUR CHILD A KICK START TOWARDS SUCCESS WITH KIDS MARTIAL ARTS CLASSES IN ORANGE!
This program is structured to help build your child's social skills. Perfect for your preschoolers, World Champion Karate's Little Ninjas program is a safe, fun, healthy environment that will increase your child's fitness and focus.
Our Little Ninjas program is specifically designed for preschoolers to increase their coordination and listening ability. Through this fun and exciting program, they maintain a great fitness level as well as increased ability to learn and focus through basic martial arts skills and exercises.
Through our Character development program you will notice a positive change in your child. This program is designed to challenge the student's mentally and physically to develop an "I CAN" attitude. Through this attitude the student will learn to overcome obstacles in martial arts, school and life. By overcome these adversities, this Little Dragons program will help them become better goal-setter and goal-getters.
Our Youth program is designed to develop unshakeable self-confidence, rock solid self-esteem and laser beam focus. Through our martial arts and Character development program you child will begin to live life to their full potential.
Though martial arts is not viewed as a team sport, students will learn to help others, be leaders and empower others to do their best. Students will not only be trained to defend themselves physically, they will also learn to protect their minds and use "Verbal Judo," that will allow them to use their words to stop a physical altercation from occurring without having to throw a punch or kick.
KIDS MARTIAL ARTS CLASSES PROVIDE ENDLESS BENEFITS FOR YOUR CHILD!
Whichever Kids Martial Arts class is right for you, you'll find the benefits are endless! Alongside strong martial arts lessons taught by our excellent instructors, every student will learn the importance of kindness, physical fitness and confidence in their abilities.
Our Kids Martial Arts are packed with great benefits! Just take a look:
Improved listening and concentration skills that lead to better grades in school
Stronger muscles and cardiovascular function that leads to improved health
Anti-bully self-defense skills and techniques for handling peer pressure
Leadership skills that set your child apart in the crowd
Superior coordination, flexibility and balance
Better behavior as your kids release pent-up energy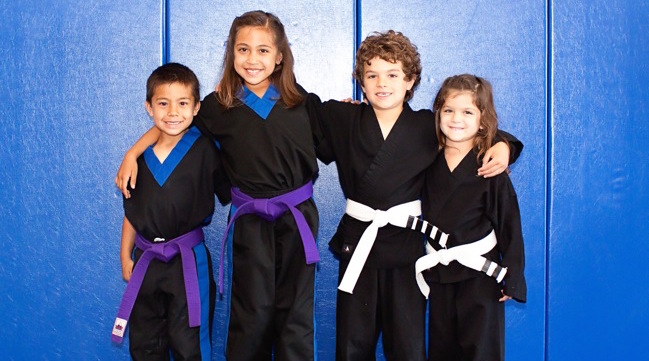 A REWARDING EXPERIENCE FOR KIDS STARTING THIS MONTH
If you're looking for the very best Kids Martial Arts class for your child, then your search is over! World Champion Karate is the Kids Martial Arts school of choice for parents all around Orange!
To find out more, just complete the short form on this page. Then we'll give you everything you need to take advantage of all that the Kids Martial Arts classes at World Champion Karate has to offer your children!